The main activities of the private enterprise "Monting Energetika" - Skopje, are design, erection, mounting, repairs and overhauls, maintenance, reconstruction, revitalization and modernization of industrial and electrical power plants, as well as production of parts, devices and units used in energy sector.
This enterprise has been established by the enterprise "Braca Kavuric'" - Zagreb, Croatia and since 1992, it exists as "
Monting Energetika
" -Skopje, private enterprise having own facilities and qualified and skilled human potential.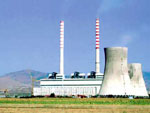 In the past, Monting Energetika was included in the design, erection and mounting of the biggest industrial and energetic objects in R. of Macedonia such as: Steel Foundry and Mill "R i Z" - Skopje", TPP TEC "Negotino" - Negotino, Refinery "OKTA" - Skopje", TPP REK "Bitola" - Bitola, TPP REK "Oslomej" - Kicevo, Chemical industry "Hemteks" - Skopje, Cement plant "USJE" – Skopje, etc.
Under the supervision of "LMZ"-Saint Petersburg, Russia, "Monting Energetika" was carried out works on "REK Bitola" units power increasing from 210 to 225 MW. It was realized the replacement of the low-pressure rotor blades on the 125 MW unit in "REK Oslomej" under supervision of "RAFAKO" - Poland, too.
Monting Energetika is permanently included in planed Steam Power Plant overhauls and maintenances of boilers, turbines, generators in REK "Bitola", REK "Oslomej" and TEC "Negotino". Works are carried out on Hydro Power Plants mainly on maintenance and outages, especially on pipelines, tables, ball and butterfly gates, oil pressure and regulation systems, turbine and turbine bearings.
Monting Energetika is present in the complete reconstruction works and repairs of the steam boilers in the agricultural firms producing early grown vegetables and fruits such as: "Vinojug" - Gevgelija, "Izvorski" - Bogdanci, "Anska Reka" - Valandovo, "Mosa Pijade" - Strumica and "Gradsko" - Gradsko.

Monting Energetika production program also produces not standardized small and bigger-size equipment parts necessary for operation of thermo power plants.
Monting Energetika was included in erection and mounting of capital industrial and energetic projects in the following countries: Algeria, Bosnia, Germany, Guinea, India, Indonesia, Iraq, Iran, Spain, Lebanon, Niger, Netherlands, United Arab Emirates, Russia, Slovakia, Slovenia, Sudan, Croatia, Czech, Serbia, Kosovo ...